Physical Exercise Chart on Silk

Physical Exercise Chart on Silk
Western Han Dynasty (206BC—25AD) 
Length: 142cm; Width:70cm
Unearthed from Han Tomb No.3 at Mawangdui, Changsha in 1973
The original of this painting is actually a colored chart of physical exercise. It has 44 human images, each 9-12cm tall, arranged in four rows, with eleven images in each row. The images include men and women, young and old. Their postures and movements differ from one another. Some are sitting, some are standing, and still others are practicing Daoyintu or exercising using apparatuses. The discernible words cover the 31 sections and deal with the two aspects of health maintenance exercises and treatment exercises. The ancient Chinese realized the importance of maintaining health through physical exercise very early and they created a set of therapeutic sports exercises that combined breathing with limb stretching. Practicing Daoyintu through breathing exercises was popular as early as the Spring and Autumn period and the therapy was further developed in the Han Dynasty. The great doctor Huatuo invented a set of Five Animal exercises, namely muscle-toning by modeling the movements of five animals: tiger, deer, bear, ape and bird. The Daoyintu vividly depicts therapeutic sports exercises used to maintain health in the Qin and Han Dynasties. 
深入探索
Daoyintu and Health Enhancing Exercises
Daoyintu vividly depicts the related movements and details of ancient exercises. The Annotations on this painting are partly damaged, but the recognizable Chinese characters and postures of the images can be divided into the following categories: 
The first category depicts postures of body exercises, including stretching the limbs, bending the knees, inclining to one side, bending and twisting the torso, hopping and dancing; breathing exercises such as inhaling and exhaling; and exercises using equipment such as a plate, a stick, a ball and a bag. 
The second category depicts postures imitating animals: hawk, wolf, dragon, monkey, ape, bear and crane. 
The third category is the largest and most important, because the images explain the disease each exercise targets. People can imitate the posture on the Daoyintu to treat a specific disease. 
The Daoyin postures painted on the Daoyintu vividly record the exercise routine—with or without apparatuses—followed by people in the Han Dynasty. With its evocative names and illustrations of specific postures, the Daoyintu is the earliest extant physical exercise chart found in the world to date. The health regimen advocated does not rely on external factors such as medication, surgery, or acupuncture as treatments; rather, it employs internal factors to actively prevent and treat disease. From a holistic health care point of view, Daoyin exercises the body, enhances the physique, maintains vigor, and brings forth a lively spirit. It reflects the Han people's attempt to take care of their health and pursue a safe and disease-free life.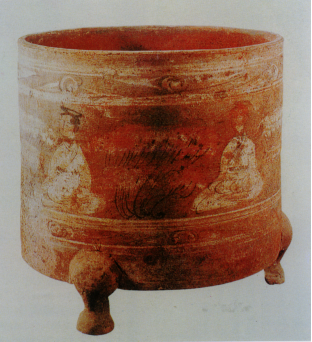 Pottery Case with Human Images Doing Breathing Exercises
Western Han Dynasty (206BC—25AD) 
Unearthed from Luoyang, Henan province in 1963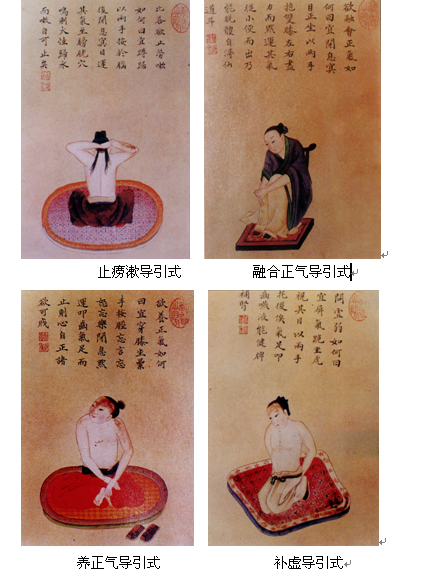 Daoyintu Painted in Qing Dynasty (1636—1912AD)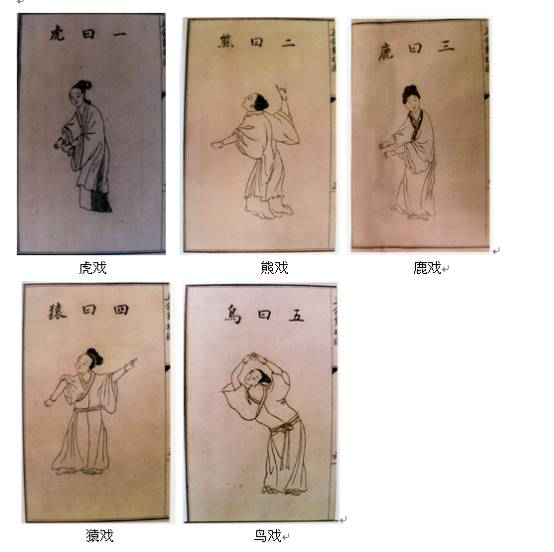 Five-Animal Exercise Painted in Qing Dynasty (1636—1912AD)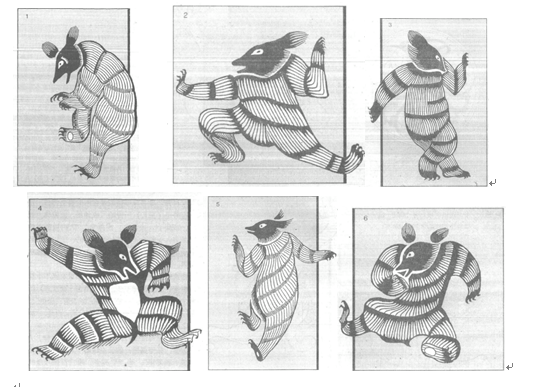 Replica Line Drawing of Bear Exercises
Western Han Dynasty (206BC—25AD) 
Patterns from an Object Unearthed from No. 122 Han Tomb in Baoding, Hebei Province in 1964