Painting of Fishing by the Brook

Object: Painting of Fishing by the Brook
Date: Ming Dynasty (1368-1644 AD)
Place: Changde, China
Artist: Qiu Ying
Length: 127cm; Width: 38.5cm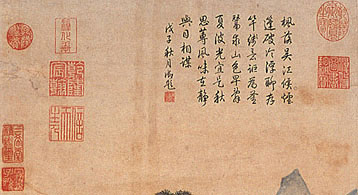 The painting shows magnificent scenes on the outskirts of a town with mountains and rivers in later autumn. Some towers and pavilions are half-hidden in the groves of the mountains and the flowing clouds. In the center of the painting are undulating mountains while in the foreground is a brook banked by red maple trees, by which a man wearing plain clothes is angling from a small boat. The composition and coloring give the painting an imposing and bewitching effect and provide viewers with an elated and carefree feeling.
深入探索
This is a landscape painting by Qiu Ying (1498-1552), one of the great artists in his time. Qiu was originally a craftsman who paints buildings for others, then he learned painting and became a famous artist. He had a scrupulous attitude toward painting and each one of his work paid great attention to details.
With its attention to detail and force, this painting reflects the typical characteristics of Qiu Ying's landscapes. From the stamps and inscriptions on the painting, it can be seen that this painting was once the treasure of the emperor Qianlong (1711-1799 AD) of Qing Dynasty and then was held by Zeng Guo-fan (1811-1872) and his brother Zeng Guo-quan (1824-1890).