Hanging Scroll of Red Plum Blossoms by Qi Baishi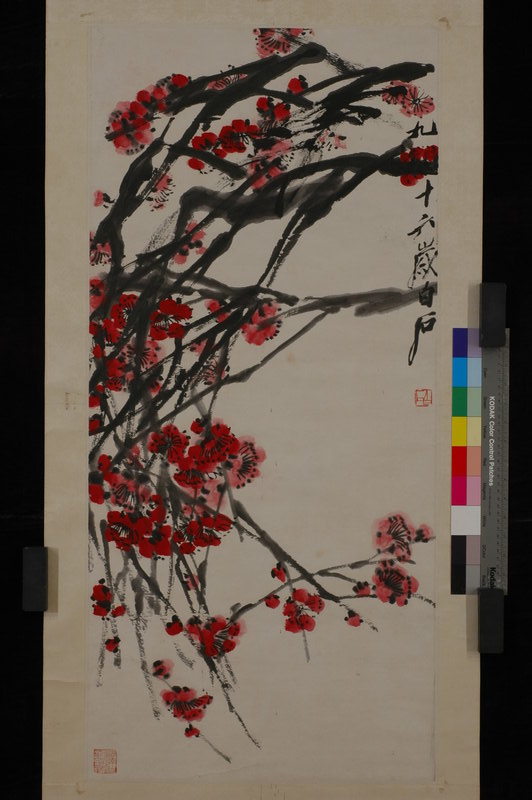 Hanging scroll, ink and color on paper
Dimensions:  100cm × 46cm
This masterpiece featuring red plum blossoms was created by Qi Baishi in his late years. The abstract brushwork of the branches represents the experienced and superb painting technique of the artist. The cluster of red plum blossoms, with clear layers of the petals, demonstrates the careful planning of the work's layout. It is inscribed with the following words: "created by Baishi at the age of ninety-six" and stamped with the seal carved in relief of "Baishi". This painting was created in 1956.
深入探索
The Story behind the Hanging Scroll of Red Plum Blossoms by Qi Baishi
The subjects of Qi Baishi's paintings include almost everything, commonly figures, flowers and birds, landscapes and scenery and so on, with paintings featuring flowers and birds demonstrating the highest artistic achievement. He "took the advice from Chen Shiceng , experienced the 'artistic reform at a senior age' and created the Da Xieyi, or 'Big' Xieyi of Red Flowers and Ink-wash Leaves, a technique interpreted as that the artist uses large brushes and economy of line to capture the spirit of the subject with swift and vigorous strokes. Meanwhile, he created the unique style of painting the subjects of insects and flowers, which came into full maturity in 1924".
It took a long period of time to achieve innovation and Qi Baishi's "Red Flowers and Ink-wash Leaves" was no exception. Before he settled down in Beijing, Qi Baishi had learned from several masters in Hunan, which laid the solid foundation for his future development. His masters included Xiao Xianggai, the best portrait painter in Xiangtan, Wen Keshao, a painter of portraits and landscape paintings, Hu Qinyuan, a painter excelling in painting flowers, birds, grasses and insects, Tan Lisheng, a mater good at landscape paintings, and Yin Jinyang, a mater excelled in painting plum blossoms. These masters excelled mainly in gongbi mode, which features fine brushwork and meticulous detail. Among them, Yin Jinyang enjoyed the highest artistic achievement, and had huge influence upon Qi Baishi.
Yin Jinyang (1835-1919), with the courtesy name (zi) as Wanbai, or Hebai, pseudonym (hao) as Wanbai Shanren, Heguang Laoren, Heguang Daoren or Yingyuansou, was born in Xiangtan, Hunan province. He excelled in painting flowers, grasses and insects, especially plum blossoms, with traditional Chinese realistic painting characterized by fine brushwork and close attention to detail. He learned from the masters of Yuan Dynasty and his brushwork was very refined and elegant. He was also an expert in the reproduction of ancient pictures. Many late painters had learnt from him, including Qi Baishi, Zeng Jize, Chen Shiceng, Yang Jun, and Yang Shizhuo. In his late years, Yin committed himself to Xiang embroidery and made contributions to the popularity of Xiang embroidery.
The final formation of Qi Baishi's style of painting plum blossoms was attributed to his learning from Wu Changshuo's Mogu (Bone-immersing) method (Painting in color and washes without black ink outlines or structure). On paintings in the style of Mogu, forms are made by ink and color washes rather than by outlines. The presentation of "Red Flowers and Ink-wash Leaves" could be achieved. This hanging scroll of red plum blossoms collected by Hunan Provincial Museum is a representative work of this style. The branches symbolize the different powerful lines. The flower petals were painted by the brush with magenta, but the stamen was made with traditional fine and delicate strokes. This proved that Qi Baishi's leaning from Yin Jinyang had always been exerting its influence upon his later creation of artworks.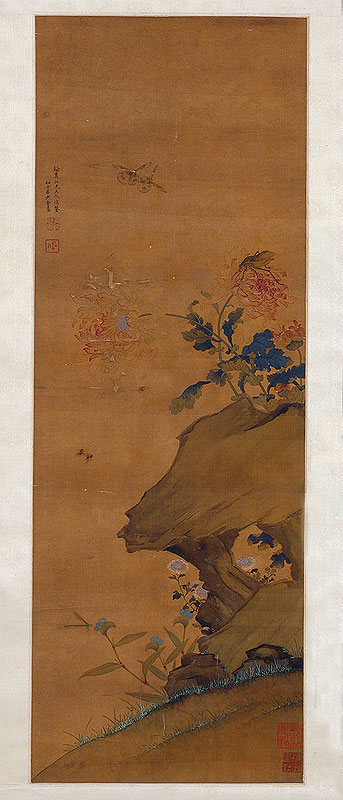 Painting of Flowers, Grasses and Insects
By Yin Jinyang
Hanging scroll, ink and color on paper
94.2 cm×33.5 cm
Not dated
Collected by Hunan Provincial Museum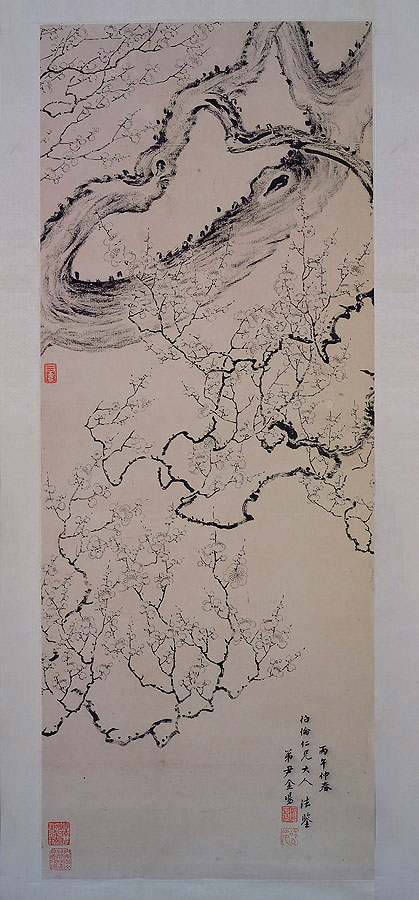 The Painting of Ink Plum Blossoms
By Yin Jinyang
Hanging scroll, Ink-wash painting
94.2 cm×33.5 cm
Created in 1876
Collected by Hunan Provincial Museum

Painting of Plum Blossoms
By Yin Hebo
Tuopian (with a piece of Xuan paper at its back), ink and wash on paper
131 cm×35.5 cm
Not dated
Collected by Beijing Fine Art Academy

The Painting of Ink Plum Blossoms
By Qi Baishi
Hanging scroll, Ink-wash painting on paper
116 cm×42.5 cm
Created in 1917
Collected by Beijing Fine Art Academy

The Painting of Ink Plum Blossoms
By Qi Baishi
Horizontal scroll of painting, Ink-wash painting on paper
60.5 cm×318 cm
 Created in 1936
Collected by Hunan Provincial Museum