Gold Seal with Tortoise-shaped Knob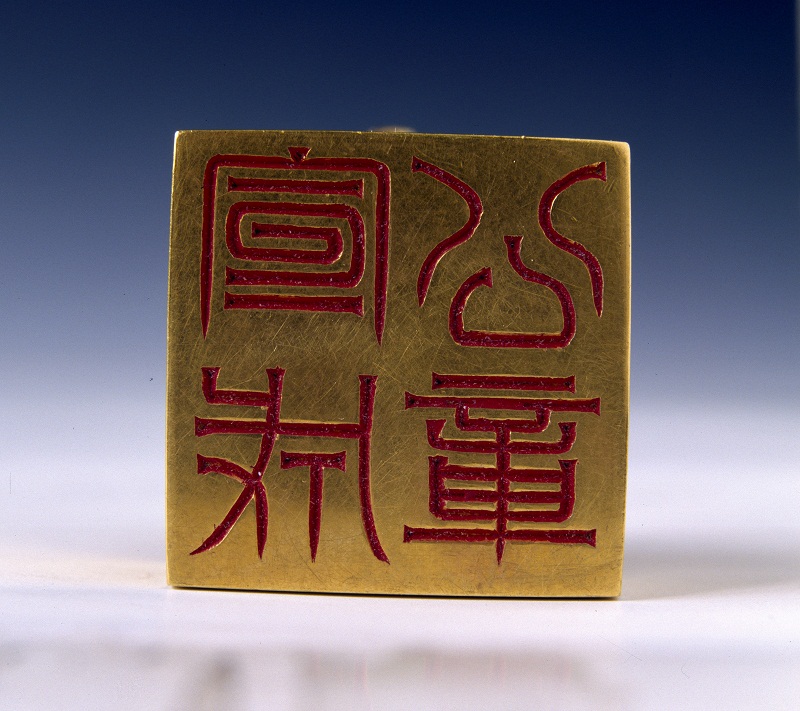 Western Jin Dynasty (265—316AD)
Size of the Seal Surface: 2.5*2.5cm; Weight: 165.8g
Excavated from Liuhong Tomb in Huangshan Town, Anxiang County, Hunan Province in 1991
This gold seal is square with a tortoise-shaped knob. The tortoise, with a head high raised, an arched shell, an openwork-engraved belly and a drooping tail, is vivid and lifelike.
At the bottom of the seal, four Chinese characters "Xuancheng Gong Zhang" were inscribed. "Zhang" refers to the seal and "Gong of Guanzhong" is an official title. According to the system of government posts in ancient China, Gong was the highest title of Chinese nobles during Zhou Dynasty and the second highest title, ranked below Wang (refers to the emperor), from Han Dynasty onwards.
深入探索
About Chinese Seal   
In no other culture has the seal played such an important role as in the Chinese culture. With a history of over 3000 years, the seal has been used to mark one's identity, credentials and importance for the Chinese people.
In the ancient times, the seals were either made of jade or bronze. Jade was the preferred material for royals and noblemen. However, with time, people resorted to more accessible materials such as wood, stone, ivory, horn, alloy and synthetic fiber. Even today, the seal plays an equally important role in the Chinese culture as it did many thousands of years ago.
The seal can still be categorized largely into three types: Imperial, Official and Private.
Imperial Seals
Imperial seals, as the name suggests, were seals owned by the Chinese emperors. Dynasty after dynasty, Chinese emperors used the seal to establish their power and sovereignty.
Emperors also used another type of Imperial seals. This type of Imperial seal was used to affix works of art, such as calligraphy or painting. When the royal household acquired any work of art, they imprinted the painting or piece of calligraphy with the Imperial seal to establish their mark of appreciation. This also increased the value of the artwork.
Official Seals
Official seals were conferred to officers of rank to carry out their duties. These seals marked their authority and their position. The official seals, typically, bore the titles of the offices, rather than the names of the owners. These seals varied in shape and material used. Depending on the position of the official, the seal could either be golden or copper, or in the shape of a camel or turtle.
Private Seals
Private seals were those used by the people at large. They were, typically, for personal use and could be equated with the signature in today's times. Because of the nature of its use, Private seals were unregulated. They came in a variety of shapes, sizes, material and calligraphy.
Most people in China used the Private seal as a signature. These seals had their names, pen names, pseudonyms or even phrases inscribed on them.  Artists often used Private seals to sign their works of art. Chinese people also used the Private seal to sign on their letters and other documents. (wenwuchina.com)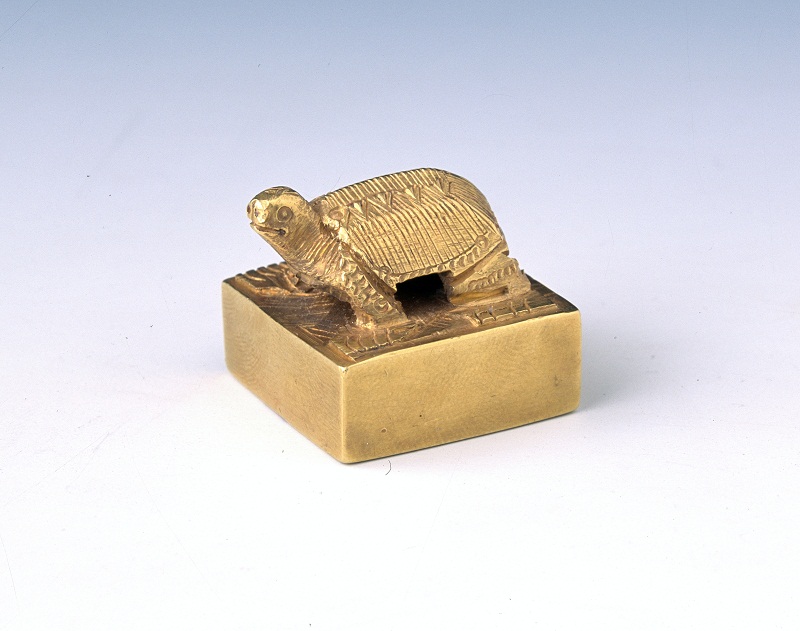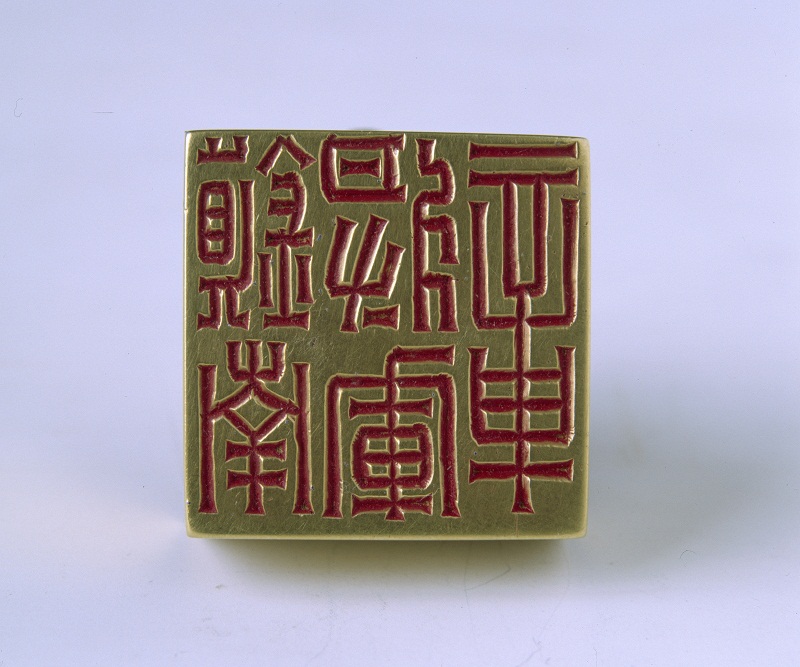 Gold Seal with Tortoise-shaped Knob Inscribed with Chinese Characters "Zhennan Jiangjun Zhang" (Seal of Zhennan General)
Western Jin Dynasty (265—316AD)
Size of the Seal Surface: 2.5*2.5cm; Height: 2.2cm; Weight: 131.5
Excavated from Liuhong Tomb in Huangshan Town, Anxiang County, Hunan Province in 1991
From the collection of Hunan Provincial Museum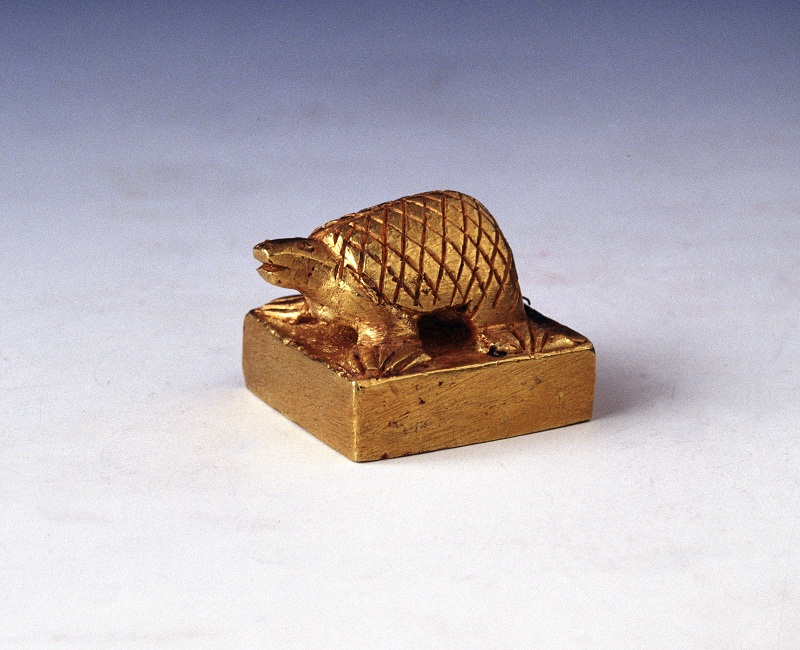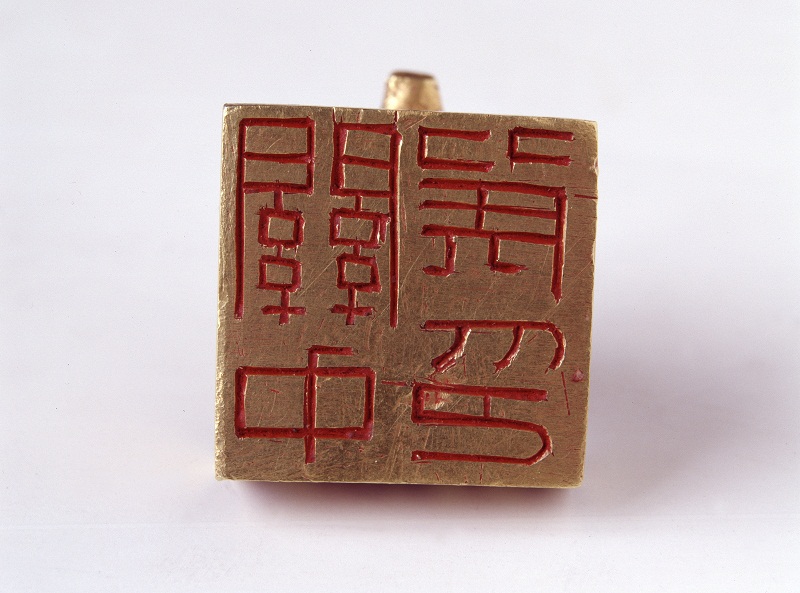 Gold Seal with Tortoise-shaped Knob Inscribed with Chinese Characters "Guanzhong Hou Yin" (Seal of Marquis of Guanzhong)
Jin Dynasty (265—460AD)
Size of the Seal Surface: 2.4*2.4cm; Height: 2.1cm; Weight: 125g
Excavated from No. 20 Tomb in Chenjia Dashan, Changsha City, Hunan Province in 1957
From the collection of Hunan Provincial Museum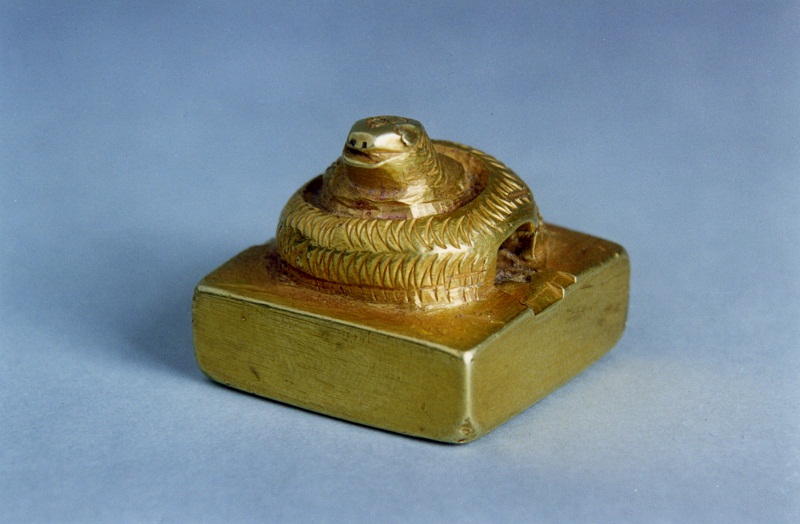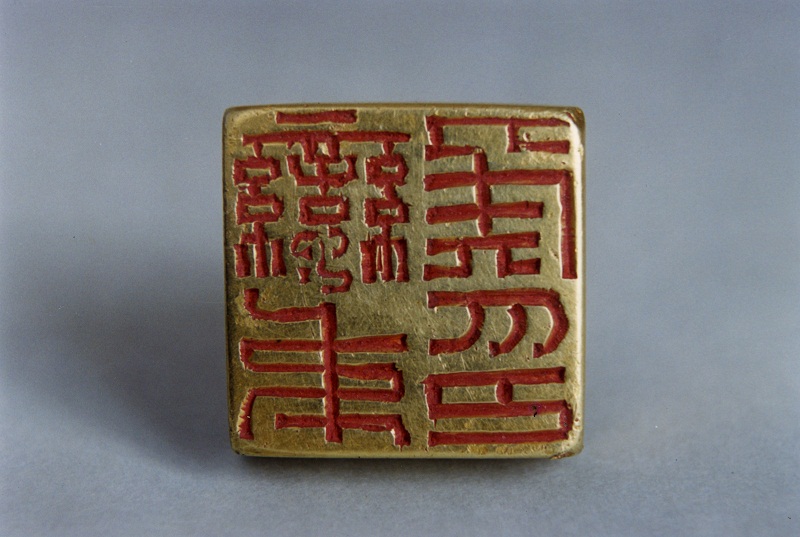 Gold Seal with Snake-shaped Knob Inscribed with Chinese Characters "Manyi Hou Yin" (Seal of Marquis of Manyi)
Jin Dynasty (265—460AD)
Size of the Seal Surface: 2.3*2.3cm; Height: 2cm; Weight: 91.2g
Excavated from Zhongzi Lin, Meixian Town, Pingjiang County, Hunan Province in 1990
From the collection of Administration of Cultural Relics of Pingjiang County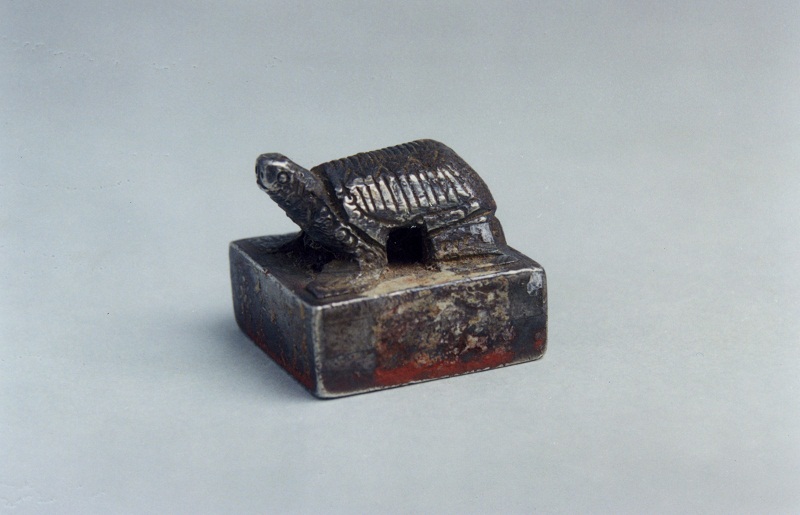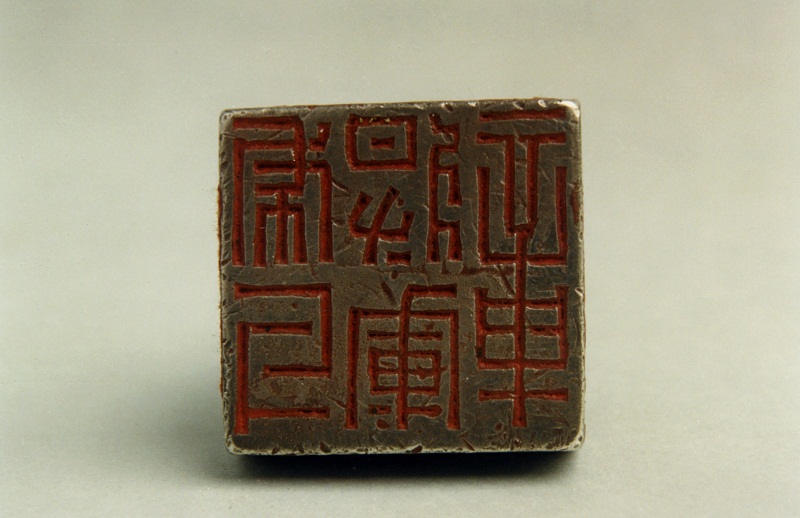 Gold Seal with Tortoise -shaped Knob Inscribed with Chinese Characters "Huya Jiangjun Yin" (Seal of General of Huya)
Jin Dynasty (265—460AD)
Height: 2.1cm; Weight: 69.5g
Excavated from Yufeng Ping Village, Qihe Town, Taoyuan County, Hunan Province in 1978
From the collection of Administration of Cultural Relics of Taoyuan County