Brown Speckled Porcelain Ewer with Dancing Figure Design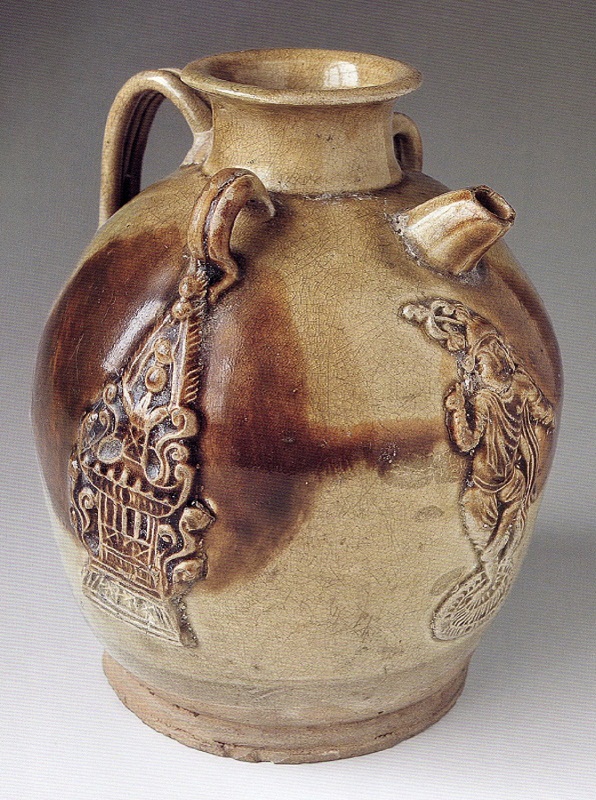 Tang Dynasty (618—907AD) 
Height: 16.4cm
Diameter at Mouth: 5.8cm
Excavated from a well at Siqian street, Hengyang, Hunan Province in 1973
As a utensil used to contain water, this ewer was designed with handles through which strings could be attached for carrying it conveniently. 
The vessel has a flared rim and a short neck, a short octagonal spout, a tubular body, a flat base, a celadon glaze, and is decorated with an applied brown-speckle design, which is a typical decorative feature of the porcelains produced by Changsha Kiln. Below the spout is a dancing figure wearing a gauze handkerchief and dancing gracefully on a cattail hassock. On the left there is a square pagoda design while on the right is a lion design.
深入探索
Cultural Exchange between Middle Asia and China in Tang Dynasty from the Perspective of Changsha Porcelain Wares
Among these three applied designs on this ewer, the dancer plays in the central part. The dance is quite different from the traditional ones in China in directly inspiring people with artistic feeling through the curves and muscles of the human body. This kind of dance is called "Huteng Dance" or "Huxuan Dance", which was brought from the western regions during the Tang Dynasty and became popular nationwide later. This ewer is proof of cultural exchange between middle Asia and China. 
And one of the other two designs is a lion, which is regarded in Buddhism as a divine beast and are naturally found in Africa and Western Asia.
From the related objects we can see that impressing paintings are common decorative techniques on Tang Dynasty Changsha porcelain wares, most often featuring date palm pattern which is also known in Chinese as "Persian dates" (an important food in South-East Europe and in the two great river regions of North Africa and Western Asia) and other Western Asian elements.
This kind of decoration on Changsha porcelain wares displays a clear West Asian style, obviously intended to meet with the aesthetic requirements of a West Asian export market.