Brown Speckled Porcelain Ewer by Changsha Kiln in Tang Dynasty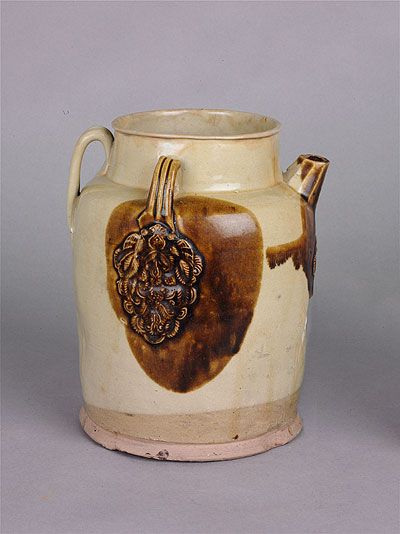 Height: 22.2cm; Diameter at Mouth: 11.5cm; Diameter at Bottom: 15.8cm
Salvaged from a sunken wreck "Black Stone" in Billiton, Indonesia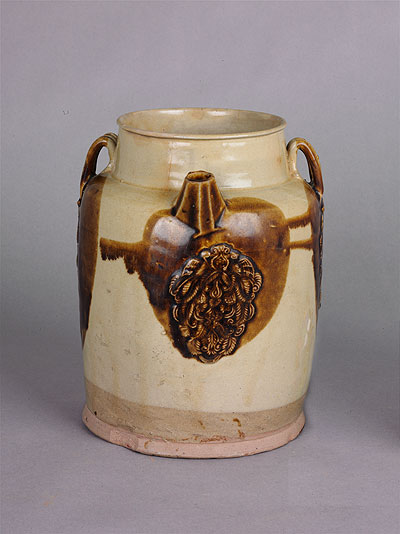 Salvaged from the "Black Stone" in about 1998, this porcelain ewer, flaring opening with a big mouth, a short neck and three semi-circulars handles, is decorated with brown speckled date palm patterns beneath the spout and handles. The color of light pink coated with white engobe at the bottom presents a striking contrast to that of the rest part of the ewer. It is in thorough even and bright brown glaze except the bottom. Well-preserved porcelain ware by Changsha Kiln is seldom seen, not to mention such a shining one.
"Black Stone", an Arabian merchant ship in the late Tang Dynasty sinking around 826BC, was found by Indonesian fishermen in 1998 and has been salvaged by a German firm from 1998 to 2001. Later, all objects as well as the sunken ship itself were collected by Sentosa, Singapore. 
Brown Speckled Porcelain Ewer in Green Blaze with Date Palm Patterns from "Black Stone" in the collection of Hunan Provincial Museum is different from that of Green Glazed and Brown Colored Porcelain Ware with Poems and Colorful Patterns for the reason that it was produced for export. 
The date palm decorated beneath the spout and handles are actually the fruit grown on high trees commonly seen in Arab Area, which indicates the blend of cultures between East Asia and West Asia at that time.
Brown Colored Porcelain Ewer in Green Glaze with a Poem by Changsha Kiln
From the collection of Hunan Provincial Museum
深入探索
Using Clay to Make Utensils: Changsha Kiln
The kiln is called the Changsha Kiln because its site is near the Shizhu Lake of the Shutang village, which is subordinate to the Wangcheng County, Changsha City. It developed rapidly after the Mid-Tang period, and declined during the period of the Five Dynasties. As for the height of its prosperity, there is a vivid description in "Shizhu" by a Hunan poet named Li Qunyu:
      Using clay to make utensils,
      Setting big trunks on fire;
      The flame tints the river red.
      The smoke blends into Dongting clouds;
      Coal ashes pervade all around,
      The sounds transmit into the remote;
      The ground was excavated here and there,
      There are big holes all over.
The Changsha Kiln products, which have novel figures and all kinds of decorations, sold well at home and abroad, even as far as to the area of Western Asia. The main feature of those products is to put colored drawings and some corresponding poems under the glazes. The Changsha Kiln had a great influence on the development of the decorative porcelain and the blue-and-white porcelain of the Song and Yuan Dynasties.