Bronze Bo with Four Tigers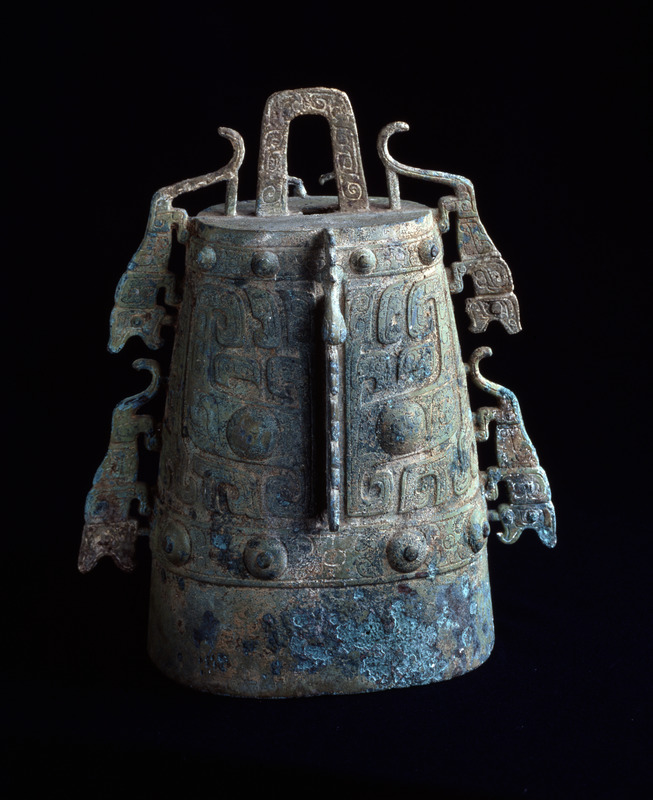 Bronze Bo with Four Tigers
Western Zhou (1046BC-771BC)
Height: 42.8cm; Maximum Width: 26.5cm; Weight: 13.4kg; Thickness: 0.8cm
Unearthed from Min'an Village, Shaoyang, Hunan Province in 1985
Bronze Bo with Four Tigers is a kind of percussion instrument (Bo refers to an ancient musical instrument), which was often played with other musical instruments, such as Bian Zhong (Serial Bells) and Bian Qing (Stone Chimes) and so on, on the occasions of banquets or sacrifices held by the high-class.
This Bo comprises a flat opening, an elliptical body, a trapezoid loop handle, a Wu part (the part under the handle) with a square small hole, four protruding ridges, two opposite edges of two flat tigers with opening mouths and raising tails and two opposite edges of birds, arranged on the body, a Zheng part decorated with animal face patterns and a row of nipple-shaped pegs respectively on the upper and lower thereof. 
There are in existence many Bronze Bos of the same type, which are in the collection of Shanghai Museum and Palace Museum, but only this Bo has a clear unearthing site, thereby providing the specific unearthing site for the study of the manufacturing location of this kind of musical instrument. 
This Bo is distinctive in design style and exquisite in casting. When the Bo is played, beautiful and interesting sounds of tigers roaring and birds twittering are respectively produced by the standing birds and standing tigers on the protruding ridges. It is a typical bronze musical instrument in south China.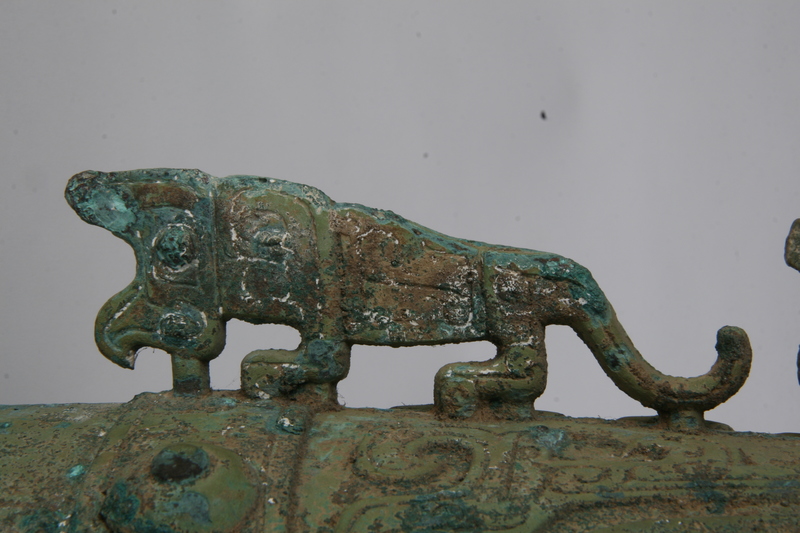 Image of partial enlargement
深入探索
On Bronze Musical Instruments Unearthed from Ningxiang, Hunan Pronvince
It is the bronze musical instruments that crown the bronzes with most local characteristics of Shang and Zhou Dynasties found in Hunan; wherein, Bronze Nao (a bell-shaped musical instrument made of bronze) unearthed from Yueshan Pu, Ningxiang, is as heavy as 221.5kg, ranking "the King of Naos" at present. The Bronze Naos unearthed from Laoliang Cang, Ningxiang are also very heavy, 154kg and 105kg respectively. The Bronze Naos unearthed from Ningxiang are not only heavy in weight, but also large in size; according to statistics, there are 22 Bronze Naos unearthed, 17 of which were unearthed from the hillside of Shigu Zhai in Laoliang Cang. The Naos are basically same in the shape, but vary in decorations and design patterns, such as the Bronze Nao with Tiger Patterns unearthed from Laoliang Cang, Ningxiang in the year of 1959. The Zheng (a bell-shaped percussion instrument) part of the bronze is in the shape of two tiles holding together; the bronze is provided with a Yong (a handle) that is provided with a Xuan (a loop for hanging), the Yong is hollow and connected with the hollow space of the Zheng. The main patterns on the Zheng surface is an animal face carved in bold lines and all edges and Yong part are decorated with cloud patterns. Two standing tigers are decorated at both sides of Gu (a part for striking) and an animal face is decorated at Sui part. The Naos with elephant patterns also were unearthed at the same site. In 1993, ten Bronze Naos were unearthed from the cellar on the hillside of Shigu Zhai, Laoliang Cang, among which, some are decorated with "Ru Ding" (a nipple-shaped pegs). Nao, a kind of heavy and large musical instrument with resonant sound at striking, is a representative masterpiece of Shang and Zhou Dynasties of South China. With so many unearthed Bronze Naos from Ningxiang, we can conclude that this place must have been an important bronze cultural center in the periods of Shang and Zhou Dynasties of South China. In recent years, through the archaeological excavation to Ningxiang Tan Heli Ruins, a town-site of Western Zhou has been preliminarily discovered. Two layers of earlier town-sites are buried under this site, but the specific times of the two have yet to be explored. However, so many bronzes with local characteristics have laid the foundation of bronze cultural center for this region.