Boar-shaped Bronze Zun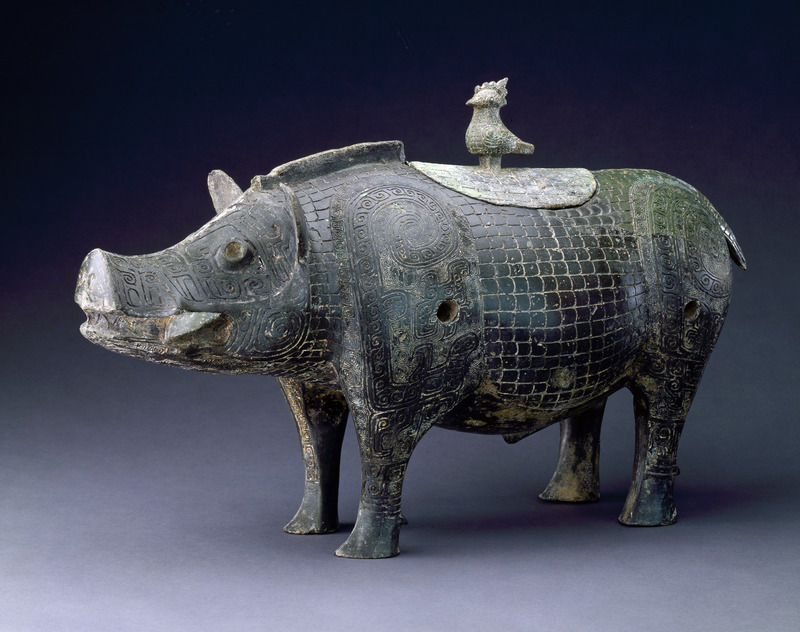 Boar-shaped Bronze Zun
Shang Dynasty (16th –11th Century BC)
Dimensions: Height: 40cm; Length: 72cm
Unearthed from Chuanxingshan, Xiangtan County, Hunan Province
The Boar-shaped Bronze Zun unearthed in Chuanxing Mountain of Jiuhua Village in Xiangtan County in 1981 is in vivid boar shape with strong legs, round buttocks and belly, 40cm high and 72cm long. The boar is standing up, with an oval hole on its back. A lid is arranged on the hole, with a standing bird as its lifting handle. On the head the beast mask is cut in intaglio; the surface of belly, back and cover is decorated with scale and shell pattern; inverted Kui pattern is cast on the limbs and buttocks. The vessel with an empty tubular belly has the capacity of thirteen liters. 
It is the only relics in the existing bronzes of Shang Dynasty that is in the shape of a boar. Apart from its vividness, what's more distinctive of the vessel is that the holes on the front and rear elbow are in alignment and there are circular tubes in the diameter of 1.4cm therein. It is speculated that ropes can thread through the circular tubes, thereby facilitating the moving of the bronze, from which we can see the full consideration into the shape design.
深入探索
Hunan and Bronzes
Hunan Province plays a significant role in China's archaeology, where most of southern China's buried bronzes of the Shang and Zhou Dynasties (1600—771BC) have been excavated. Most of bronzes of Shang and Zhou Dynasties in Hunan were excavated from several Shang Dynasty's sites in Zaoshi, Shimen County and Tonggushan, Yueyang City, which fully demonstrate the advanced ancient Chinese-casting technology, such as the elaborate and sophisticated Four-goat Zun, Rectangular Ding with Human Mask, Tiger-eating-man You, Boar-shaped Zun and Elephant-shaped Zun. The vessels or containers had massive figures and peculiar decorative styles, the percussion instruments were excellent in performance and design while the full relief animals are impressively vivid. 
Most of the bronzes characterize the Central Plains Culture while some represented by the giant bronze Nao-bell are of typical regional culture. Some bronzes of the Western Zhou Dynasty and Spring and Autumn Period feature Yue Culture while those of the Spring and Autumn Period and the Warring States combine the features of Chu, Yue and Ba Cultures. The major characteristic of Hunan's bronzes in Shang and Zhou Dynasties is dominated by the Chu State bronze culture and supplemented by multi-cultural exchanges and integration.
The bronzes of Shang and Zhou Dynasties found in Hunan are an important part of ancient Chinese bronze culture, on which there are a lot of signs and patterns whose meanings are to be studied and confirmed.